Conference Championship Sunday is upon us...a career performance from Oklahoma's freshman phenom...and the Sabres with an embarrassing loss. Greg Larson has more details on today's Sunday Sports Update...
Sunday Sports Update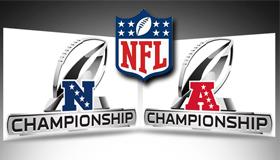 Top: Today, we'll find out who will be going to Super Bowl LII. The first game of the day pits the Jacksonville Jaguars against the New England Patriots in the AFC Championship Game; the Pats will look to make it to their 10th Super Bowl in franchise history, while the upset-minded Jags look for their first Super Bowl appearance. Then in the NFC Championship Game, it'll be the Minnesota Vikings at the Philadelphia Eagles. If the Vikings win, they will become the first team to play in a Super Bowl in their home stadium.
Bottom left: Very little went right for the Buffalo Sabres on Saturday against the Dallas Stars. Their offense did not trouble the Stars, while their goalkeeping was awful. Chad Johnson and Robin Lehner combined to allow seven goals on 32 shots in a 7-1 loss at the KeyBank Center. Photo by NHL.com
Bottom right: Trae Young continues to impress. The Oklahoma freshman poured in 48 points on Saturday during the Sooners' rivalry game at Oklahoma State. The bad news for Young, though, is that the Sooners lost 83-81 in overtime. Photo by the OU Daily