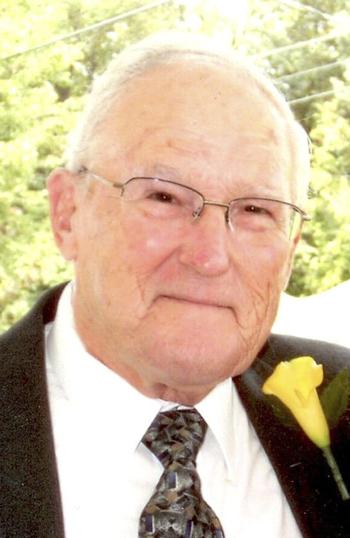 Kenneth A. Houle, 82, of Silver Creek passed away peacefully on Wednesday morning, May 9, 2018 at his son Tony's house in Silver Creek, surrounded by his loving family after a sudden illness.
Ken was born on February 24, 1936 in Ripley, the son of the late Adrian and Rose (Mercier) Houle. He grew up in Sherman and went to work for the Labor Union Local 210 in Buffalo, where he had an accomplished carpenter and a mason for over 25 years. He also worked at the St. Columban's Center in Derby for a decade.
Ken loved to golf, as he played in the Tri-County Country Club Men's League with his partner, Josh White. They thoroughly enjoyed themselves every Thursday night. He participated in many tournaments locally, in Canada, and in Florida, winning a fair amount of those, too. A lot of these outings were played with his son, Tony. They enjoyed traveling to different country clubs to see the U.S. Open, the Masters and the Players Championship. In his younger years, he was avid hunter, fisherman and scuba diver.
Ken was known for his upbeat personality and his sense of humor. He had countless friends who will miss him dearly. He was everything to his family and his family was everything to him.
In addition to the Tri-County Country Club, Ken was a member of Our Lady of Mt. Carmel R.C. Church, the Silver Creek VFW, American Legion, the Fireman's Club, and the Loyal Order of the Moose in Venice, FL.
Survivors include his son, Anthony (Dawn) Houle of Silver Creek; a daughter, Anne (Tim) Gregory of Atoka, TN; four grandchildren, Jennifer (Michael Picard) Houle, Erin (Neal) Phillips, Matthew (Marie) Randall and Emily (Brandon Malone) Randall; three great-grandchildren, Raegan, Sophie and Kinley; a sister, Katherine Urbanowicz of Erie, PA; his longtime companion, Joanne Blake; also survived by several nieces and nephews. Ken was preceded in death by his parents; his beloved wife of 43 years, Jane (Polvino) Houle; and three brothers, Donald, Harold and Victor Houle.
Friends may call at the Hole-Parker Funeral Chapel, 160 Central Ave., Silver Creek on Friday, May 11 from 2-4 and 6-8 p.m., and are invited to attend a Mass of Christian Burial to be held at 10 a.m. on Saturday, May 12 at Our Lady of Mt. Carmel R.C. Church, 165 Central Ave., Silver Creek, with Fr. Daniel Fiebelkorn officiating. Burial will be in the Mt. Carmel Cemetery.
Flowers gratefully declined. Memorials may be made to Hospice of Chautauqua County, 20 West Fairmount Ave., Lakewood, NY 14750.
To share a condolence or remembrance with Ken's family, go to www.holeparkerfc.com.
Obituary from the Observer