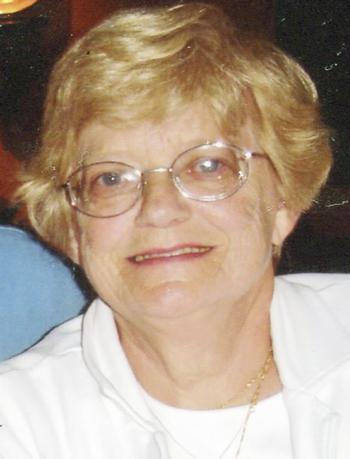 With the Lord as her guiding light, and her husband and children by her side, Sylvia A. Schibetta of Fredonia died on Sunday, March 11, 2018 at Brooks Memorial Hospital. She was 81.
The wife of Carles Schibetta, they celebrated their 63rd wedding anniversary on March 5, 2018.
Loving mother of eight children and caregiver to her two nephews for most of their lives, Sylvia spent her years giving of herself to the Lord, church, family, friends and anyone else who she came across that needed strength and guidance. She was the exemplary example of what being a true family matriarch meant.
A lifelong member of St. Anthony's RC Church in Fredonia, she was also an accredited teacher, earning her BS in General Education from SUNY Fredonia in June 1974. She and Chuck spent many years in both North Carolina and Nevada before returning home to Fredonia for their remaining years. She could often be found throughout the community talking of her love of God or boasting of her children. People such as Sylvia have given as many the strength and confidence to a pursue life in the way of the Lord and with love to others. She will be greatly missed.
Sylvia is survived by husband, Charles J. of Fredonia; sons, William (Debra) and family of Dayton, TX, Charles (Robin) and family of Tecumseh, MI, Michael of Phoenix, AZ, Thomas of Fredonia and John (Alicia) and family of Fredonia; and daughter, Gina (John) Kaczmarek of Ballston Spa, NY. Also survived by a sister, Betty (George) Bouqin of North Carolina. She is further survived by her two nephews, Michael (Betty) Ray of Orchard Park and John Ray of Phoenix, AZ; her daughters-in-law, Pamela (James) and family of Mentor, OH and Brenda (Richard) of Richmond, VA. She has 13 grandchildren and was expecting her first great-grandchild in the next few weeks.
She was preceded in death by her two sons, James of Mentor, OH and Richard of Richmond, VA.
Relatives and friends are invited to call at the Fantauzzi Funeral Home, 82 East Main Street, Fredonia on Sunday, March 18 from 3 to 5 p.m. A Mass of Christian Burial will be held later at the convenience of the family.
Sylvia's family asks that in lieu of flowers, loved ones can make a donations to the Roswell Cancer Institute in her name.
All arrangements have been entrusted to Michael P. Fanauzzi, Owner and Director
Obituary from the Observer