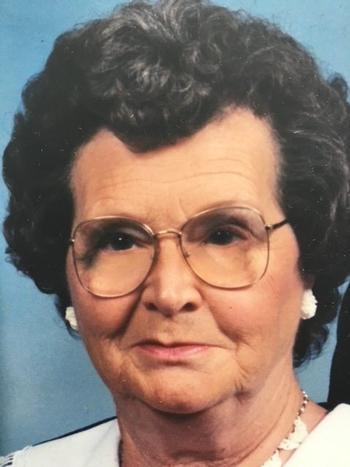 Doris Maxine Hill Reed, 93, of 165 Aldren Avenue, Jamestown passed away Thursday, February 8, 2018. She was born April 28, 1924 in New Albion, the daughter of the late Max and Cora (Kilby) Hill.
Doris was a 1942 graduate of Cattaraugus High School and was a 1946 graduate of Buffalo General Hospital School of Nursing. She worked at Buffalo General Hospital, Chickasha Hospital in Oklahoma, WCA Hospital, and the former Jamestown General Hospital, retiring in 1980.
She enjoyed gardening, baking, crafts, square and round dancing. The couple were members of the Randolph Circling Squares and Virginia Blue Ridge Twirlers.
Mrs. Reed is survived by Jacquelyn Wells of Gowanda, Donna Norgaard of Leonia, NJ and Doris Castevens of Charlotte, NC; son, Darryl Reed of Mililani, HI; 12 grandchildren, Tracey Reed Weaks, Jonathan and Aaron Reed, Karl, Erik and Mark Norgaard, Kristen Norgaard King, Ashley Castevens Mostaghimi and David Castevens, Taylor, Madison and Mackenzie Reed; 12 great-grandchildren; and one brother, Raymond Hill. In addition to her parents, she is predeceased by her loving husband, James; brothers, LeRoy Hill and Roland Hill; sisters, Violet Clark, Alice Hillebert and Vivian Wulff; sons, James Alan and infant son Dale; granddaughter, Laura Wells; and great-grandson, Kyler Norgaard.
Visitation will not be observed. A memorial service will be held in the chapel at the Lutheran Home, 715 Falconer Street, Jamestown on Saturday, February 17 at 3 p.m. The Rev. Dan Rumfelt will be officiating. Inurnment will be in Liberty Park Cemetery, Cattaraugus.
In lieu of flowers, memorials may be made to Lutheran Social Services at 715 Falconer Street, Jamestown, NY 14701; or Hospice Chautauqua County, 20 West Fairmount Avenue, Lakewood, NY 14750.
Arrangements entrusted to DiStasio Funeral Home, Cattaraugus. Online condolences may be made at www.distasiofuneralhome.com.
Obituary from the Observer