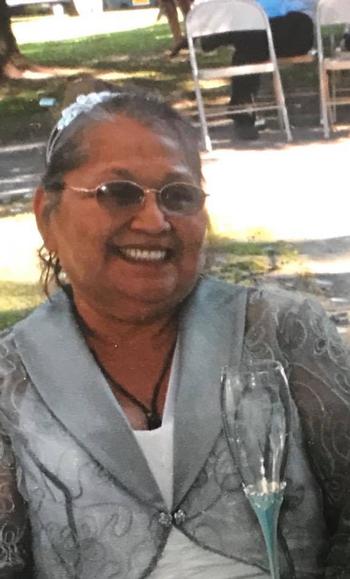 Darlene Rae Fisher of Indian Hill Road, Perrysburg passed away Monday evening, November 13, 2017 at home surrounded by family. Darlene was 68 years old. She was born into the Bear Clan on March 4, 1949, the daughter to Richard and Wilma (Stafford) Henhawk.
Darlene worked in the kitchen of the former Gowanda Psychiatric Center prior to her retirement.
Darlene married Stanford "Sonny" Fisher, Sr. Sonny preceded her in death.

Survivors include children, Stanford Fisher, Jr., Jena George and Ginger George, stepchildren, Carol Fisher and Julie Fisher; and seven grandchildren, Kerri, Donna, Kalie, Sonny, Keana, Lacey and Sariah. Darlene is also survived by brothers and sisters, Harley Henhawk, Harlan (Carol) Henhawk, Valorie Jones, Rick Henhawk, Roscoe Henhawk and Daria (Patrick) Henhawk. Several nieces and nephews also survive. Besides her parents and her husband, Darlene was preceded in death by a grandson, Rick C. Mohawk; a brother, Richard Henhawk, Jr.; and a sister, Mona Archer.

Friends may call Tuesday, November 14 and Wednesday, November 15 at the Fisher family residence at 10925 Indian Hill Road, where funeral services will be held Thursday, November 16 at 10:00 AM.
The Schindler Funeral Home, 44 Center Street, Gowanda (716) 532-4200 is in charge of arrangements.