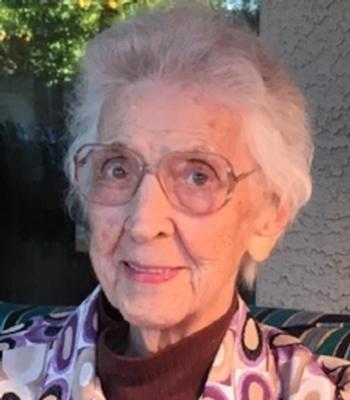 Esther Travis, 92 years old, of Brocton passed away unexpectedly at her home on Tuesday afternoon, November 7, 2017. She was born in Brocton on December 28, 1924, and was the daughter of the late Peter and Mary Niedbalski Wolnik and had lived in this area her entire life.
Esther was a graduate of Brocton Central School and a proud member of the Class of 1942. She had worked as a house cleaner and for many years worked on the many grape farms and vineyards in the area. Esther also worked as a waitress at the St. Stephens Hotel of Brocton and had been employed at I Miller Pickles, Welch's, and many other businesses throughout the Brocton-Portland area.
She was a member of St. Dominic's Roman Catholic Church and a member of St. Dominic's Alter and Rosary Society. Esther was also a Life Charter Member of the Brocton American Legion John W. Dill Unit 434 Auxiliary, where she had been past president from 1954-1955, from 1958-1959, and from 1962-1963.
Besides her family, Esther loved bingo, puzzles, reading, and was an avid card player. She also loved to travel, especially her trips to Australia and Hawaii.
She is survived by one daughter, Charlotte McCorry of Sun City West, AZ; two sons, Richard (Beverly) Travis of Portland and Steven (Kathy) Travis of Deltona, FL; seven grandchildren; and 10 great-grandchildren. She was predeceased by her husband, William who passed away in 2001; and one son, Michael, who passed away in 2013. She was predeceased by four sisters, Dorothy Zagorski, Lorraine Portanova, Barbara Wlodarek and Doloris Dynarski; and two brothers, Joseph Wolnik and Leo Wolnik.
Friends are invited to call at the Morse Funeral Home, 51 Highland Avenue in Brocton on Friday, November 10 from 5-8 p.m., and where a prayer service will be held at 7 p.m. by the Rev. Romeo Hontiveros of St. Dominic's Roman Catholic Church. A Celebration of Life in Esther's Memory and Honor will take place on Saturday, November 11 from 2-5 p.m. at the Brocton American Legion John W. Dill Post 434, 110 West Main Street, Brocton.
In lieu of flowers, the family requests memorials be made in her memory to the Brocton Fire Deptartment, Lake Avenue, Brocton, NY 14716; or the Portland Fire Department, West Main Road, Portland, NY 14769.
To leave a message of remembrance or condolence for Esther's family, please log on to www.themorsefuneralhome.com.