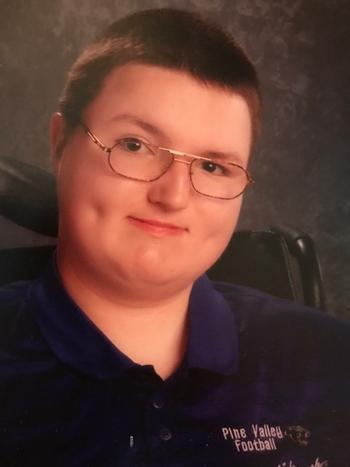 James M. Lindquist, 22, of Cherry Creek passed peacefully surrounded by his loving parents on Sunday, June 11, 2017. He was born in Carmel on July 8, 1994 to Lonnie and Michele Lindquist.
Loving son to Lonnie and Michele; cherished brother to Joe (Aleesha), Robert and Nikole (Dylan); grandson to Jon and Cindy Weaver and Carl Cortright; godson to Howard Kuhn; nephew to Claudia Peters, Brandy (Chris) Lewis, Kenneth (Tammy) Lindquist, Donald (Luann) Lindquist, Jerry (Juanita) Lindquist and Duane (Ruth) Lindquist; also survived by many cousins. James was preceded in death by his grandmother, Helena Cortright; great-grandparents, Celia Kroll, Glen and Bertha Weaver; and aunt/godmother, Dianne Linquist.
James will be forever remembered for his infectious smile, quick wit, never-ending knowledge and unbelievable determination to live life to the fullest. He loved spending time with family and watching his favorite sports teams, the Georgia Bulldogs, Atlanta Braves, Buffalo Bills, Buffalo Sabres, and he was the #1 Duke Fan.
Relatives and friends may visit DiStasio-Hills Funeral Chapel, 478 Route 83 at Balcom Corners, South Dayton on Thursday, June 15 from 6 to 8 p.m. and Friday, June 16 from 10 to 11 a.m., with a funeral service to immediately follow.
The family would like to thank the Pine Valley Community, therapists, advocates and caregivers who spent countless hours, days and years enriching James' life and comfort.
Online condolences may be made at www.hillsfuneralchapel.com.
By the Observer