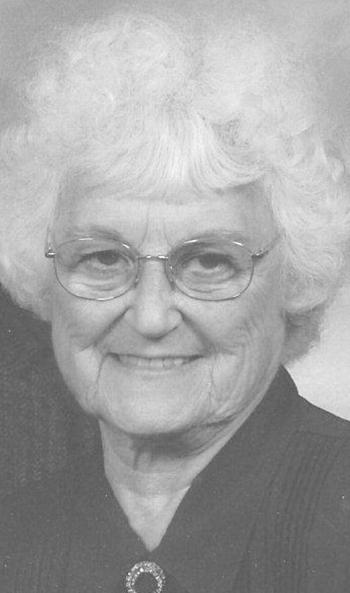 Betty L. Crowell, 93, of Dye Road, Forestville died Friday, January 6, 2017 at the Heron Pointe Health and Rehabilitation Center in Brooksville, FL. She was born on June 20, 1923 in Forestville, the daughter of the late Archie and Mary (Jones) Wolfe.
Betty was a graduate of Forestville Central School, Class of 1941 and continued her education at Houghton College earning a degree in Theology and Christian Education. She married the love of her life, Nelson D. Crowell on June 14, 1949 at the Forestville Wesleyan Methodist Church, of which both were members.
Betty assisted her husband in pasturing several churches in Western New York over a period of 41 years, ministering to children and youth. She taught Sunday school, was a Vacation Bible School director, assisted in promotional and outreach programs, and often filled in as organist or pianist.
She authored a Sunday school curriculum for the Wesleyan Denomination's Primary age level for a three-year period and wrote Devotional material for the Youth department publication. Betty traveled with her husband on two Missionary trips to Puerto Rico and Haiti.
She continued to be active after retirement in 1992 with sewing, needlework, reading, solving crossword puzzles as well as accompanying her husband whenever he was asked to preach in various churches.
Survivors include her husband of 67 years the Rev. Nelson D. Crowell of Forestville, NY and Brooksville, FL; two daughters, Karen (Gerald) Eigenman of Cheektowaga and Sharon (Peter) Parker of Silver Creek; a son, the Rev. Stephen (Kristan) Crowell of Alfred Station, NY; 13 grandchildren; stepgrandchildren; and several great-grandchildren. Besides her parents, she was preceded in death by two brothers, the Rev. A. Gordon Wolfe and Miles Wolfe; and a grandson, Stephen Crowell, Jr.
A memorial service will be scheduled at a later date. Memorials may be made to the Forestville Wesleyan Church, 9495 Prospect Rd., Forestville, NY 14062.
Arrangements are by the Hole-Parker Funeral Chapel, 160 Central Ave. Silver Creek. To leave a message of remembrance or a condolence, go to www.holeparkerfc.com.
Obituary from the Observer