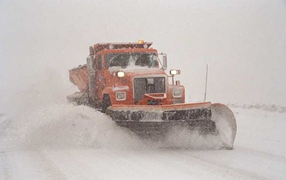 Chautauqua County snowplow crews are ready to go for the change over to winter weather conditions, and all 30 pieces of equipment are ready to go. That from County Executive Vince Horrigan, who says he was at the Department of Public Facilities' Sherman shop Wednesday night to see the crews' readiness. Horrigan says they're set for whatever amount of snow we receive...
Vince Horrigan: crews are ready to go
Horrigan says 21,000 tons of salt sounds like a lot, but he says some of that salt goes to other local municipalities who go in with the county to purchase road salt in bulk from the state. He says it's sometimes difficult to predict how much is needed because the county wraps up its fiscal year needing a certain amount of salt, then needs to start the following year with a certain amount as well...
Vince Horrigan: will be in good shape
Horrigan says local motorists should make sure to give plow crews plenty of room to do their work, and slow down when they come upon a working plow on the roads.