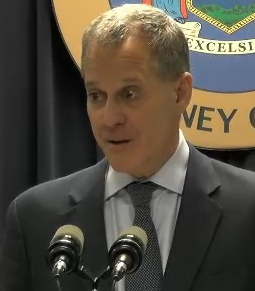 With the tax deadline less than one month away, New York State Attorney General Eric Schneiderman is providing taxpayers with a variety of tips to avoid fraudulent tax schemes. Schneiderman says many scammers claim that consumers owe past tax debts and insist that they pay using a pre-paid credit card or gift card. Schneiderman's office has issued these tips:
1. If you owe money, you will receive a legitimate notice in writing that identifies the agency and the reason you owe money.
2. Do not give out personal information, including your Social Security number, bank account information, or other payment information, to telephone callers.
3. Legitimate government organizations will never threaten arrest or deportation for failure to pay a debt.
4. Legitimate government agencies will never insist that consumers pay a debt only via a pre-paid credit card.
Schneiderman says taxpayers should also report instances of fraud to his office by clicking here or calling 1-800-771-7755.

Click here for additional tips to file tax returns safely.