Steelers ready for another Super Sunday battle...Sabres lay an egg in Colorado...and BYU with the biggest upset of the year in college hoops. More details from Greg Larson on today's Sunday Sports Update...
Sunday Sports Update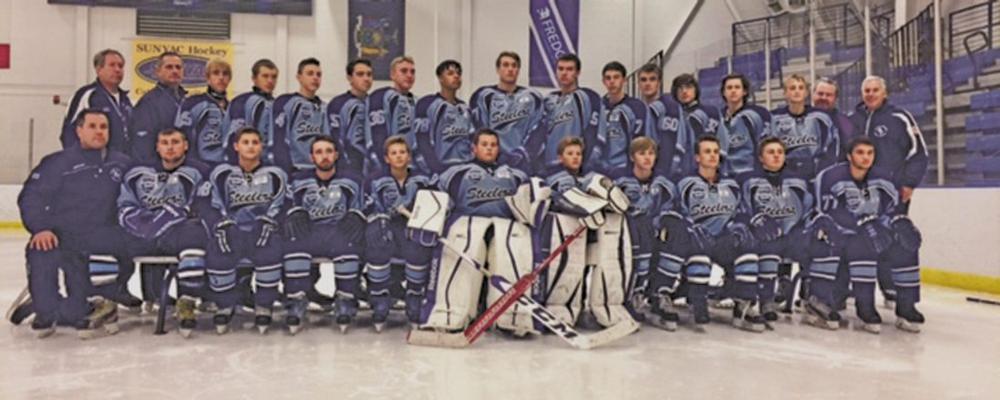 Top: Casual sports fans hear the phrase "Super Sunday" in the month of February and immediately think of the Super Bowl. Around here at this point in the month, it refers to the Western New York High School Hockey championships. Today, the Dunkirk-Fredonia Steelers will battle Iroquois for the Mixed Division Championship. You can listen to the game on WDOE (94.9 FM/1410 AM) and streaming live on this site. The opening faceoff is slated for 12:00 PM.
Bottom left: Jack Eichel controls the puck for the Buffalo Sabres against the Colorado Avalanche on Saturday in the opener of a West Coast road trip. It was Buffalo's first game in six days, and the rust was evident early on. The Sabres fell behind 3-0 early on and tried staging a comeback, but came up short and lost 5-3. Photo by the Buffalo News
Bottom right: BYU players start celebrating after taking down the top-ranked team in the nation. The Cougars, who were 20 1/2-point underdogs on the road against Gonzaga, pulled off the biggest upset of the college basketball season on Saturday with a 79-71 victory in their regular season finale. Photo by Nexstar Broadcasting