Bills look to slow down the high-scoring Raiders...final pieces of the College Football Playoff puzzle will fall into place...and Pine Valley girls win the Hae Jude title. Greg Larson has more details on today's Sunday Sports Update...
Sunday Sports Update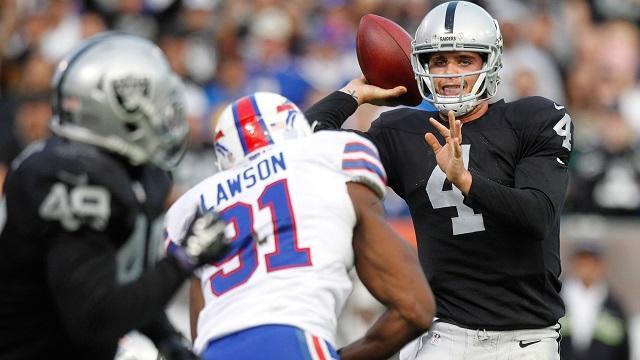 Top: If the Buffalo Bills want to stay above the .500 mark, they'll need to contain of the NFL's bright young quarterbacks this afternoon. In just his third season, Derek Carr has led an Oakland Raiders team destined for its first postseason appearance since 2002. His vertical passing attack will be a big challenge for the Bills, who enter today's contest with a record of 6-5, just one game out of the final AFC wild card spot. Kickoff from the O.co Coliseum is at 4:05 PM.
Bottom left: Penn State's Saeed Blacknall celebrates his 70-yard touchdown reception in the 3rd quarter of Saturday's Big 10 Championship Game in Indianapolis. Big plays like that spurred a comeback for the Nittany Lions, as they defeated Wisconsion 38-31 after trailing 28-7 at one point. Was that enough for Penn State to sneak into the College Football Playoff? The selection committee unveils its top four this afternoon.
Bottom right: Pine Valley's Emily Raiport draws a double team against Silver Creek in the championship game of the Hae Jude Tournament in Silver Creek. Raiport had 18 points and 13 rebounds as Pine Valley won 40-31 on Saturday. Raiport was named tournament MVP. Photo by the Observer