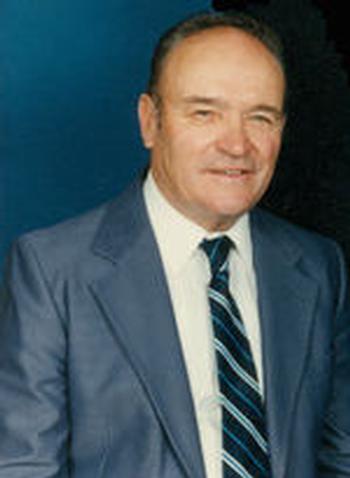 Hyland Day, Jr. died peacefully on Wednesday, May 9, 2018 at his home in Fredonia at the age of 95.
Hyland was born May 27, 1922 in Arcade to Hyland Sr. and Rose (nee Zilker) Day. Hyland was one of 10 children. He graduated from Arcade High School in 1940.
Hyland met Dorothy at a dance and in 1944 they were married. Other than the year Hyland spent at a Buffalo factory, he worked on a farm, first with this dad, then as a hired hand and finally buying his own farm in 1949. For the next 50 or so years, he, Dorothy and Roger operated a dairy farm.
In addition to working the farm, Hyland was a member of Hope Lutheran Church and found time to volunteer and serve on many boards and hold officer positions. Some of the organizations Hyland was active in include the Odd Fellows, Wyoming County Farm Bureau (president for two years), Arcade Agway, Federal Land Bank, Buffalo Milk Producers, 4-H, Upstate Milk Co-op, Eastern Breeders Co-op, Town Councilman (10 years), Kiwanians, and served as chaplain of Chaffee Lodge 256 IOOF.
Hyland is survived by his son, Roger Day of Fredonia; two granddaughters, Tammy Schultz (Michael) of Little Chute, WI and Wendy Patterson (David) of Fredonia; three great-granddaughters, Cassidy, Alyssa and Kelsey Vianese; a sister, Shirley Haggerty (late Kermit) of Arcade; and several nieces and nephews. He is preceded in death by his wife of nearly 60 years, Dorothy Day, who passed away April 28, 2012; their son, Donald Day, who passed away November 19, 2015; and his siblings, Ralph Day, Stewart Day, LaVern Day, Warren Day, Gordon Day, Winifred Pixley, Betty Whiting and Donna Horning.
Friends may call Wednesday, May 16 from 11:00 am to 1:00 pm at Hope Lutheran Church, 2 E. Main St., Arcade. Funeral services will immediately follow at the church, with Pastor Shawn Hannon officiating. He will be laid to rest at Yorkshire Cemetery.
In lieu of flowers, please make memorials to the Arcade Fire Company, PO Box 303, Arcade, NY 14009; Fredonia Ambulance; or to Hope Lutheran Church, 2 E. Main St., Arcade.
Online condolences may be offered at www.wsdavisfuneralhome.com.
Obituary from the Observer