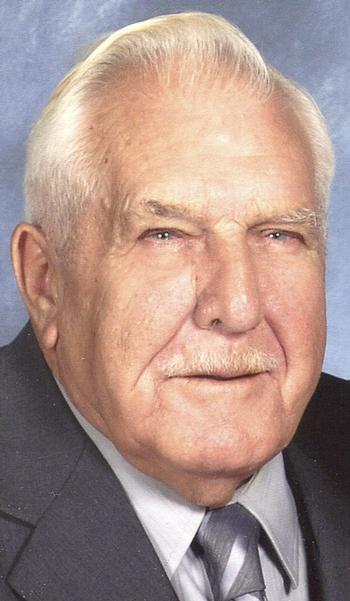 James K. "Papa" Fisk, Sr., age 87 of Fredonia entered into Eternal Life on Saturday, April 14, 2018, peacefully at home with his loving family.
James was born in Dunkirk on June 16, 1930, the son of the late Glenn and Doris (Law) Fisk. He was a veteran of the U.S. Army, a Paratrooper of the 32nd Airborne, serving during the Korean War from 1951 to 1953. Following his military service, James was a longtime auto body technician and grape farmer. After his retirement from Dengler Chevrolet Inc. in 1987, James expanded his grape farming operation to include proud co-ownership of Fisk Farms, actively farming until the age of 76.
James loved and cherished his family more than anything, including his little dog CheChe. He also loved the great outdoors, hunting, fishing, camping, taking long rides, and playing pinochle and bingo with his partner and love of his life, Beverly. James was also a longtime member of St. Joseph Catholic Church, the Westfield Fish and Game Club, and Honorary past President of the Beaver Club.
James is survived by his loving wife of 62 years, Beverly Ann (Brown) Fisk; children, James (Karen) Fisk, Jr. of Pomfret, Ronald (Debra) Fisk of Fredonia and Rosanne (John) Cole of Pomfret; and his grandchildren, Nicole (Michael) Beal of Olean, Sarah Fisk of Chicago, IL, Ronald Fisk, Jr. of Long Island, Ryan Fisk of Fredonia, Alissa Cole of Rochester and John Cole, Jr. of Winchester, VA. James is also survived by two sisters, Barbara Seeker of Las Vegas, NV and Betty Green of Cattaraugus. In addition to his parents, James was preceded in death by his brothers, William Fisk and Ralph Fisk; and his sister, Janice Hahn.
A Mass of Christian Burial will be celebrated at 12:00 PM on Thursday, April 19 in St. Joseph Catholic Church, 145 East Main Street, Fredonia. Interment will be in the Webster Road Cemetery in the Town of Pomfret. Family will receive friends Wednesday, April 18 from 2:00-4:00 PM and 7:00-9:00 PM in the McGraw-Kowal Funeral Home, 736 Central Avenue, Dunkirk. Full Military Honors will be accorded by the Dunkirk Joint Veterans Council Honor Guard.
In lieu of flowers, memorials may be made to the Fredonia Volunteer Fire Department.
Obituary from the Observer