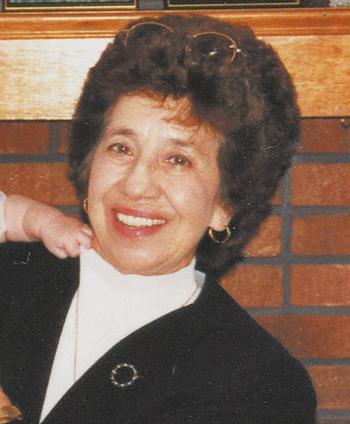 Marian V. Conti, 92, of Fredonia died Sunday morning, April 15, 2018 at St. Columban's on the Lake Retirement Home in Silver Creek. She was born in Fredonia on February 14, 1926, the daughter of the late Vincent (Jimmy) and Matilda Castellana.
In 1951, Marian married Louis R. Conti MD, who predeceased her in 2010. She was a graduate of Fredonia High School and Jamestown Business College. She worked as a medical secretary at Brooks Memorial Hospital in the Radiology Lab, Buffalo General Hospital, and for Dr. Schwabe in Brocton. She also assisted her husband in establishing his medical practice in Dunkirk/Fredonia as a secretary, along with raising three sons.
She was a member of St. Anthony's Church in Fredonia and Shorewood Country Club, and volunteered her time as a usher at FSU King Concert Hall. She was a generous caregiver showing her love of family and friends, especially when illness entered their lives.
As a young girl, she had a love of gymnastics and would perform gymnastic routines at events for family and friends. Marian was a graceful and athletic woman who enjoyed tennis, golf, ice skating, roller skating and ballroom dancing. She also enjoyed playing bridge, painting and had a great love of music. She always was delighted to hear the visiting musicians and choral groups performing at St. Columban's. She was at her happiest when visiting with her grandchildren and great-grandchildren.
Marian is survived by her sons, Richard (Rebecca) of Fredonia, Robert (Susan) of Getzville and Ronald (Kathy) of Melbourne, FL; grandchildren, Jennifer Conti of Greece, Rachel (Christopher) Bruzee of Webster, Melissa (Thomas) Mazza of Gaithersburg, MD, Kevin, Lucas and Michael Conti of Getzville and Erick Spitzkeit of Titusville, FL; great-grandchildren, Dominic and Luca Bruzee; along with many nieces and nephews. She is also survived by her brother, Anthony (Hoppy) Castle of Roswell, NM. In addition to her parents and husband, she is predeceased by her sisters and brothers-in-law, Mamie (Anthony) Bucolo, Frances (Joseph) Foti and Carolyn (Joseph) LoGuidice; Brother and sister-in-law, Alfred (Jane) Castle; and sister-in-law, Angie Castle.
Funeral services will be held Saturday, April 21 at 9:15 AM from the McGraw-Kowal Funeral Home, followed by a Mass of Christian Burial at 10:00 AM in St. Anthony's Church, 42 Orchard Street, Fredonia. Calling hours will be held Friday, April 20 from 4:00-7:00 PM at the funeral home. Burial will be in St. Joseph's Cemetery, Sheridan.
In lieu of flowers, memorials may be made to St. Columban's On the Lake and Northern Chautauqua Catholic School.
Obituary from the Observer