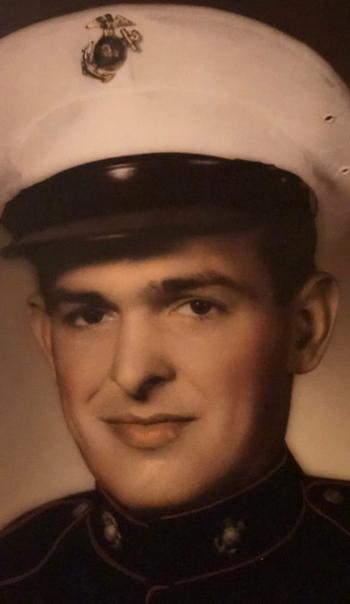 Eugene Ralph "Gene" Tilley, Sr., age 87, passed peacefully on Tuesday, April 10, 2018 at the VA Hospital in Orlando, FL with his beloved wife of 66 years at his side. Born July 3, 1930 in Dunkirk, son of the late Henry and Alice (Salisbury) Tilley. Eugene was the youngest of eight children.
After attending Dunkirk High School, he married Beatrice A. Gens of South Dayton. Gene enlisted in the United States Marine Corps, where he proudly served his country during the Korean War. Eugene returned home and worked for the Alleghany Steel Company, then took a position with the City of Dunkirk in 1971. He is best known for being the city's crosstown bus driver for more than 20 years.
After retirement, Gene and Bea would split time living between their homes in Dunkirk and Orlando, FL.
Eugene is survived by his wife, Beatrice (Gens). He was the loving father of Robin (Ron) Frazita, Cheryl DeJoe (Keith Grzegorzewski), Mark (Sherry) and Charles (Gloria). Eugene was the devoted grandfather of 14 grandchildren and 16 great-grandchildren. In addition to his parents, he is preceded in death by his son, Eugene Jr.; and his infant daughter, Patricia.
Friends and loved ones are welcome to call Tuesday, April 17 from 2-4 and 7-9 p.m. at the R. Mackowiak Funeral Home, 56 East Doughty Street, Dunkirk, where funeral services will be held Wednesday, April 18 at 11 a.m. Interment to follow in Forest Hill Cemetery, 55 Lambert Avenue, Fredonia.
Obituary from the Observer