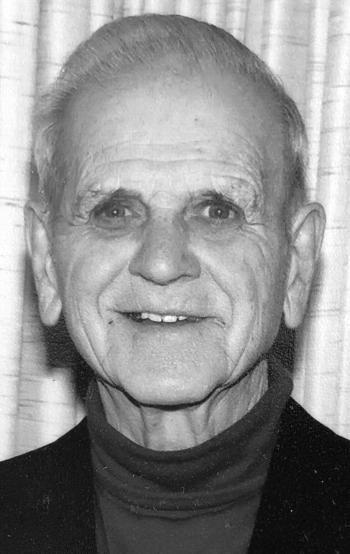 Louis "Looch" Selan, 95, of Gowanda passed away Thursday, March 8, 2018 at Mercy Hospital in Buffalo, surrounded by family.
Louis was born on August 18, 1922 in Gowanda, son of the late Louis and Angela (Bratosh) Selan. He graduated from Gowanda Central School in 1940. After working in various local factories, he joined the U.S. Army in 1943; he served in the European Theatre until his discharge in 1946.
After serving his country (a feat of which he always felt very strong and proud of), he started his state service, working at the Gowanda Psychiatric Center, where he worked for 37 years.
There was not a more community-minded individual than Looch. he was very sports minded and he was involved in all fields, football being his pride and joy. He was responsible for bringing a group together to bring Little League Football to Gowanda; he also got together with his former Gowanda High School Football teammates to form the Gowanda Tigers semi-pro football team. Among his many awards he received during his lifetime were the Community Service Award in 2003 and his induction into the Cattaraugus County Sports Hall of Fame in 2013.
Louis was an active member of St. Joseph's RC Church, as well as the Gowanda VFW Post #5007, Gowanda American Legion Post #409 and "his pride and joy," the Slovenian Club, where he was currently serving as treasurer for the last 71 years.
On September 22, 1951, he married the former Dorothy Victor, who survives. Besides his loving wife of 66 years, he is survived by a son, Larry (Natasha) Selan of South Otselic, NY; three grandchildren, Felicia Selan, Kyle and Tyler Armstrong; several nieces and nephews; and Karen Walton and Asalyn Coachman. He was predeceased by a sister, Melia Ann Mosher.
Friends may call at the Mentley Funeral Home Inc., 105 East Main St., Gowanda on Friday, March 16 from 2-4 and 6-8 p.m. A Mass of Christian Burial will be said on Saturday, March 17 at 11 a.m. from St. Joseph's RC Church in Gowanda.
Memorials may be made to St. Joseph's RC Church or the Slovenian Club.
Obituary from the Observer