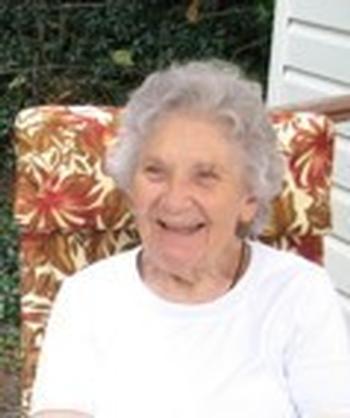 Margaret Smart Sidey (the only "smart" Sidey, as she loved to joke), formerly of Dunkirk, went to be with her Lord and Savior on Wednesday, February 7, 2018. She was born in Detroit, MI on January 4, 1928 to Harold and Margaret Shields Smart.
She was a kindergarten teacher before marrying James Sidey on February 7, 1953 and moving to Dunkirk where she lived for many years.
She was the matriarch responsible for raising and inspiring her children and grandchildren through her quiet, unmovable faith to become fathers, mothers, and even a Purple Heart recipient.
Margaret is survived by her children, Libby (Jim) Calato of Pittsburgh, PA, Philip (Karla) of Dillard, GA, Paul (Barb) of Denver, CO, Louise (Robert) Pollok of Scotland, Stephen (Kim) of Angola and Andrew (Ellen) of Buffalo; also survived by her beloved grandchildren residing in Scotland, Florida, the Great Lakes and the Rocky Mountains; and seven great-grandchildren. She was predeceased by her husband; a son, David; two grandsons, Wil and Jake; and a great-grandson, James. She will be missed and honored by those she leaves behind.
In lieu of flowers, memorial contributions in Mrs. Sidey's memory may be made to Life's Key, PO Box 10, Bethel Park, PA 15102. It was a ministry dear to her heart and where she worked after moving to Pittsburgh.
Calls may be made Sunday, February 11 from 4-7 pm at the Larson-Timko Funeral Home, 20 Central Avenue, Fredonia, where funeral services will be held Monday, February 12 at 11 am. Interment will be in Forest Hill Cemetery.
Online condolences may be made at www.larsontimkofuneralhome.com. Arrangements by David J. Dengler.
Obituary from the Observer