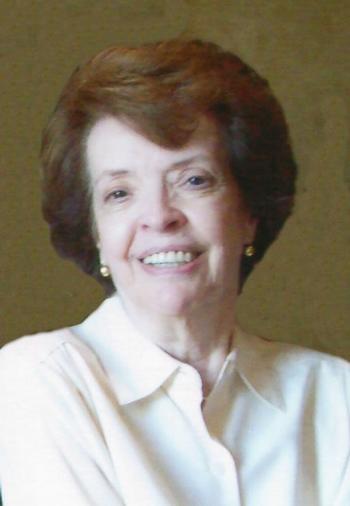 Eleanor J. "Ellie" Favata, 84, of 359 South Main St., Jamestown passed away at 6:21 am Wednesday, January 10, 2018 in UPMC Chautauqua WCA Hospital. A lifelong area resident, she was born August 21, 1933 in Fredonia, a daughter of the late Frank and Jean Gervase Sevola.
Eleanor was a 1951 graduate of Fredonia High School and was a communicant of St. James Catholic Church.
Prior to her retirement, she was an executive secretary for the City of Jamestown Department of Development for over 30 years.
She will be remembered as a loving and caring wife, mother, grandmother and sister who loved taking care of her family. She also enjoyed knitting and doing yoga.
Surviving are her husband of 61 years, Philip J. Favata, whom she married September 3, 1956; two sons, Philip (Donna) Favata of Jamestown and Mark (Mary) Favata of Orchard Park; three grandchildren, Olivia Favata, Emily Favata and Sam Favata, all of Orchard Park; a sister, Donna (Joe) Marsh of Pittsford; a sister-in-law, Rosemary Sevola; two brothers-in-law, Joe Favata and Sal Favata; a sister-in-law, Mary Mangano; as well as many loving nieces and nephews. Besides her parents, she was preceded in death by an infant son, Philip Gerard Favata; two brothers, Frank Sevola and Charles Sevola; three sisters-in-law, Mary Sevola, Fran Favata and Susan Favata; and a brother-in-law, Anthony Mangano.
A Concelebrated Mass of Christian Burial will be celebrated at 10 a.m. Monday, January 15 in St. James Catholic Church. The Rev. Darrell G. Duffy, pastor and Rev. Frank Sevola, Eleanor's nephew, will be celebrants. Burial will be in the St. Anthony's Cemetery, Fredonia. The family will receive friends from 2-5 p.m. Sunday, January 14 in the Lind Funeral Home, where a Christian Wake Service will be led at 4:45 p.m. Sunday.
You may leave words of condolence to Eleanor's family at www.lindfuneralhome.com.
By the Observer