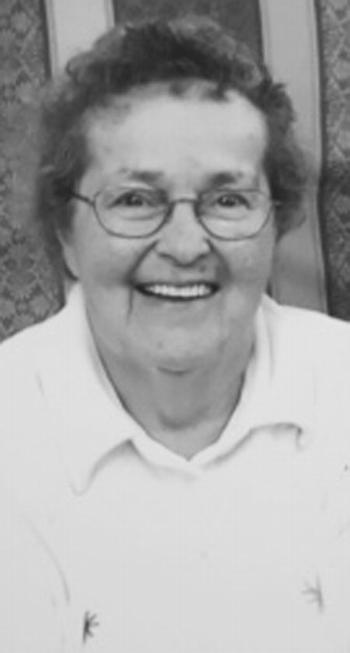 Rosalie B. Kuzdzal, 94, of Dunkirk died Tuesday afternoon, January 9, 2018 at home. She was born in Dunkirk on January 2, 1924, daughter of the late Edward and Rose (Binkowski) Schultz.
A retired employee of Kraft Foods in Dunkirk, she at a time during WWII was an employee of an air plane factory in Buffalo as one of the "Rosie the Riveters."
Her memberships include Blessed Mary Angela R.C. Parish Church of St. Hyacinth, the parish rosary society, and Dom Polski Club.
Rosalie loved to play cards, go to card parties and with her "Rosie Red Cheeks" always had a smile on her face for everyone she met.
Surviving are her children, Floyd J. Kuzdzal of Erie, PA, Karen Kuzdzal of Virginia, Kathleen (Bill) Partridge of Rochester, Susan (Paul) Kaus and Ernest Kuzdzal, both of Dunkirk; and grandchildren, Jeff Kuzdzal, Todd (Pam) Kuzdzal, Cheryl Partridge, Holly Partridge, Kelly (Michael) Dougherty, Laura Kuzdzal and Jason (Ashley) Kuzdzal. Several great-grandchildren, one great-great-grandson, along with several nieces and nephews, also survive. Preceded in death, in addition to her parents, are her husband, Floyd H. Kuzdzal, whom she married March 18, 1944 and who died June 11, 1996; 12 brothers and sisters; a grandson, Stephen Kaus; great-grandson, Michael Partridge; and daughter-in-law, Patricia Kuzdzal.
Relatives and friends are welcome to call on Thursday, January 11 from 2-4 and 7-9 p.m. at the R. Mackowiak Funeral Home Inc., 56 East Doughty Street in Dunkirk. Funeral services will be held Friday, January 12 at 10 a.m. in Blessed Mary Angela Parish Church of St. Hyacinth. Interment will follow in St. Hyacinth's Cemetery.
The Rosary Society will be present to recite the rosary at 6:30 p.m. Thursday.
Obituary from the Observer