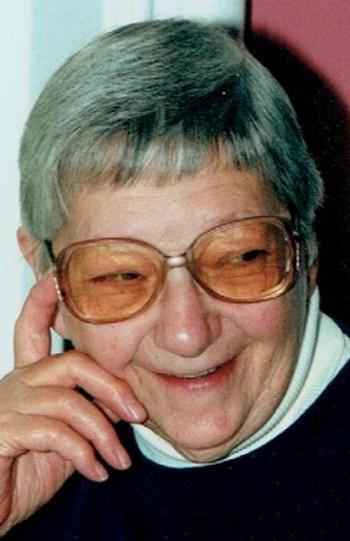 Anita Grace (Barbuto) West, 88 years old, of Brocton passed away with her family at her side Monday morning, January 8, 2018 at Westfield Memorial Hospital after a short illness.
Anita was born in Buffalo on March 24, 1929 to Anthony and Mary (Everson) Barbuto. She was a graduate of Hutchinson Central School in Buffalo, the Class of 1946. After she married, she was a stay-at-home mom for her family and also helped on the family farm. She was a member of the Brocton Baptist Church since 1965 and served as a Deaconess, Sunday School Teacher, Vacation Bible School Teacher, and taught in the Children Church ministry. Anita also taught for 23 years in released Time Education in the Public School System as a third grade teacher. Anita also helped out the Pioneer Girls of Westfield. She also loved watching the birds.
She is survived by her loving husband, Harry C. West of Brocton, whom she married on August 1, 1953. She was the mother of Lucie (William) Farrar, Daniel West, Michael West, Dale (Caroline) West, Karen (Charles) Heilman and Rebecca (late Thomas) Campbell; loving grandmother of 19 grandchildren and 12 great-grandchildren; sister of Virginia (late C.L.) Winterberger of Spring City, TN and Anthony (Marian) Barbuto of Pleasantview, UT. She was predeceased by her siblings, Lucy (late Edwin) Flanigen, Mary (late Steve) Stramowski and Bernard (late Judy) Barbuto.
Funeral services will take place on Friday, January 12 at 11 a.m. from the Brocton Baptist Church, 33 West Main St., Brocton. The Rev. Larry Morrison will officiate. Interment will follow at the Portland Evergreen Cemetery. Friends are invited to call at the Brocton Baptist Church on Thursday, January 11 from 3 to 7 p.m. and from 10 to 11 a.m. on Friday, one hour prior to the funeral service.
Flowers are kindly declined. The family requests memorials in Anita's honor be made to the Brocton Baptist Church, 33 West Main St., Brocton, NY 14716; Westfield Memorial Hospital, 189 E. Main St., Westfield, NY 14787; Brocton Fire Department, Lake Ave., Brocton, NY 14716; and/or Portland Fire Department, West Main Road (Route 20), Portland, NY 14769.
To leave a message of remembrance and condolence, please log on to www.themorsefuneralhome.com. Funeral arrangements are being provided by the Morse Funeral Home of Brocton.
By the Observer