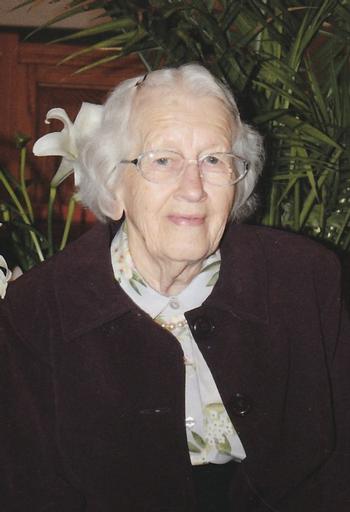 Betty B. Firth, 97, of Berquist Manor, Heritage Village Campus in Gerry, formerly of Cassadaga, went home with the Lord on Thursday, November 9, 2017. She was born April 9, 1920 in Cassadaga, a daughter of the late Ernest and Winifred Fisher Bernard.
Betty was a graduate of Cassadaga High School and Jamestown Business College.
In early years, Betty worked at Chautauqua Institution and Crescent Tool. She was a full-time mother and homemaker and assisted her husband with the daily operation of the family dairy farm.
She was a member of the Sinclairville Baptist Church and participated in various church ministries, and was also a member of the Ross Grange and the Valley Historical Society.
Betty and her husband enjoyed volunteering at the Indian Missionary Services in Glendale, AZ and at Spurgeon Baptist Bible College in Mulberry, FL. They also enjoyed traveling and had toured the country for over six months visiting most of the states. She loved playing the piano, baking cookies (her specialty being oatmeal raisin), and preparing meals for friends and family who loved her rice pudding.
Wife of 49 years to the late Robert H. Firth, whom she married August 26, 1941 and died October 3, 1990; mother of Susanne (Jim) Leffler, Linda (Dick) Holley and Annette (Tom) Carlson; grandmother of Dean and Mark Leffler, Heidi Couch, Wendy Lamirand, Paul and Tracy Holley; great-grandmother of Erin, Jennifer, Heather, Anna and Eli Holley, Ryan and Joshua Leffler and Jared, Leah and Eliana Couch; sister of Jean Murphy, Beverly Star and the late Marcia Fabritius, Wesley and Alan Bernard. Also survived by nieces and nephews.
The funeral service will be held at 11 a.m. Tuesday, November 14 in Sinclairville Baptist Church, 9 Park St., Sinclairville. Visitation will be held from 4-7 p.m. Monday, November 15 in the Jordan Funeral Home, Sinclairville. Burial in Cassadaga Cemetery.
Family suggests memorials to Sinclairville Baptist Church, Sinclairville, NY 14782-0507.
Obituary from the Post-Journal