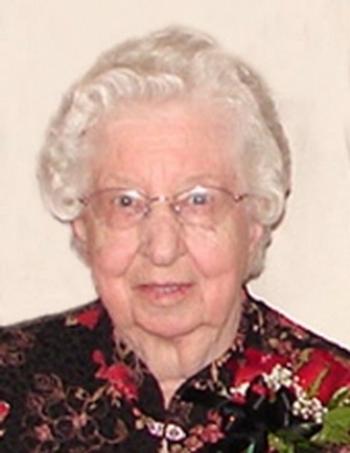 Eleanor Ruth (Spaulding) Damon, age 101, peacefully passed into the arms of her Lord and Savior, Jesus Christ, on Thursday, October 5, 2017 at St. Agnes Hospital in Fond du Lac, WI.
Eleanor was born October 30, 1915 to the Rev. William Franklin and Sarah Rebecca (Reed) Spaulding at the Gerry Methodist parsonage in Gerry. She is one of six siblings.
Eleanor graduated from Falconer High School in 1933 and from Fredonia Normal School in 1937. She married her high school sweetheart, Cecil Ward Damon, on July 1, 1939. She taught Kindergarten in Falconer and Ashville and left in 1941 to raise her children.
From approximately 1958 to 1968, Eleanor faithfully served as pastor of Faith Chapel in Jamestown. She continued serving her church family in various ways until retirement.
During retirement years, Mr. and Mrs. Damon resided in Avon Park, FL. In 2009, after Cecil's passing, Eleanor moved back north to be near family. She lived in her own apartment in Brocton through March of 2017. After a short period of rehabilitation, she moved to Wisconsin to live with her daughter's family.
Eleanor was an accomplished pianist and enjoyed playing late in life. She also loved Thursday afternoon Bible study, going out to eat and playing Skipbo. At Eleanor's 100th birthday in October 2015, Eleanor was asked, "What is your secret to a long life?" She responded, "I don't know, but I do know who has done it. It is the Lord. He said He will never forsake me and He hasn't until this day."
Eleanor is survived by three daughters, Katharine (Ransom) Lydell, Ann (Vincent) Gates and Patricia (Daniel) Olson. Her five grandchildren are Kelly (John) Tyler, Tara (Mark) Amidon, Jason (Alicia) Gates, Danielle (Joshua) Pokorney and Tye (Kim) Olson. Her ten great-grandchildren are Lauren, Samuel and Maddy Tyler; Grace and Alexandra Amidon; Lauren and Alexis Gates; Riley and Amelia Pokorney and Mackenna Olson. She is also survived by nieces and nephews, including Maureen (Phillip) Crossley, with whom she enjoyed a special bond. Eleanor was preceded in death by her husband, Cecil; her parents; and her five siblings.
A memorial service celebrating Eleanor's life will be held Saturday, November 4 at Gerry United Methodist Church at 11:00 a.m. Eleanor's family will greet guests prior to the memorial service from 10:00 a.m. to the time of service. Eleanor will be laid to rest next to her husband at Bougainvillea Cemetery in Avon Park, FL.
In lieu of flowers, memorials may be sent to Samaritan's Purse, a non-denominational evangelical Christian organization providing spiritual and physical aid to hurting people around the world, at www.samaritanspurse.org.
Zacherl Funeral Home, Inc. in Fond du Lac, WI is serving the family. Go to www.zacherlfuneralhome.com.
Obituary from the Observer