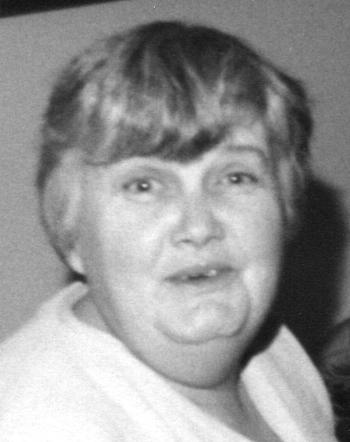 Donna Grace (Myers) Loveless, 84, of Stockton passed away on Saturday, September 9, 2017 at home. She was born September 28, 1932 in Jamestown to Vincent and Alberta (Wright) Myers.
She married Louis Gerald Loveless on October 25, 1952 in Westfield. Together, they had six beautiful children, 13 grandchildren and 13 great-grandchildren.
Donna was a longtime member of the local IOOF Rebekah Lodge, where she held many offices and formed many lasting friendships. She had a strong sense of community service, always thinking of others. Donna was a member of the Stockton Fire Auxiliary, and in her earlier days, she and other members dressed as clowns to entertain at community events. She enjoyed gardening, playing card games, feeding the birds, looking at the beautiful view out her kitchen window and spending time with her family. She enjoyed beating her children at cribbage and dearly loved her little dog, Rascal. She especially loved going to the casinos to try her luck at the slot machines.
She was preceded in death by her husband; her parents; two brothers, Vincent and Jack Myers; and one sister, Judith Myers. She is survived by her children, David (Mary) Loveless of Enid, OK, Donald Loveless of Stockton, Gerald (Roxanne) Loveless of Stockton, Dana (Paula) Loveless of Port Charlotte, FL, Pamela (Charles) Mason of Kingsville, TX and Patricia Loveless of Stockton; her grandchildren, Amanda Loveless of Enid, OK, Cristi Loveless of Westfield, Heather Loveless (Tyler Steppe) of Jamestown, Julie Loveless of Ripley, Kelly Loveless (James Beardsley) of Albany, Shannon (Archie) Maker of Albany, Michelle Loveless (Cotey Thiem) of Frewsburg, Thomas DeBraux IV of Hampton, VA, Louis Loveless of Stockton, Earl Williamson of Stockton, Lauren (Colin) Benton of Youngstown and Morgan Loveless of Port Charlotte, FL; her great-grandchildren, Vincent Loveless, Stephen and Owen Glover of Jamestown, Kallie Loveless of Westfield, Hope, Faith, and Grace DeBraux of Hampton, VA, Conrad and Margot Beardsley of Albany, Eljin and Ozzy Maker of Delmar, Aiden Thiem of Frewsburg and Ezra and Leonardo Benton of Youngstown; brother, Dennis (Sally) Myers of Jamestown; sister, Beverly Lindstrom of Celoron; sister-in-law, Lois (Don) Franz of Cassadaga; and many beloved nieces, nephews, great-nieces, and great-nephews. In addition, she is survived by her very good friend, Diane Link and her husband Ron of Stockton.
A funeral service will be held at 11 a.m. Wednesday, September 13 in the Jordan Funeral Home, Sinclairville. Visitation will be held one hour prior to the service.
Flowers gratefully declined. Memorials to Stockton Star Rebekahs or the Stockton Volunteer Fire Department.
By the Observer