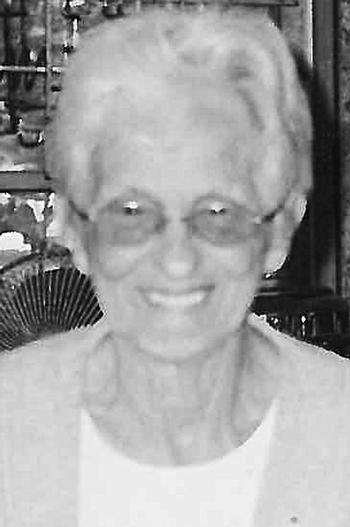 Shirley I. (Newman) Gaffney, age 81, of Route 5, Westfield passed into glory Monday, August 7, 2017 following an extended illness. She was born on February 5, 1936 in Ashville to the late Leona (Dorman) and Gustave A. Newman.
A Westfield resident for most of her life, Shirley graduated from Westfield High School in 1953. She worked at M. Wile Co. and the Westfield Sewing Factory as a seamstress. She also worked in several restaurants as a waitress. She loved gardening and was known for the beautiful flowers around her home in Barcelona. She also dearly loved her family and her pets.
Shirley is survived by her husband of 41 years, Harvey Vern Gaffney; one son, Gustave Newman of Mayville; and two daughters, Donna Miller of Conneautville, PA and Mary Ann Myers of Westfield. She is also survived by one sister, Patricia Blanco of Jamestown; and 10 grandchildren, CSM Ronald (Sgt. First Class Jaime) Newman of Tennessee, Capt. Jennifer (Newman) (Capt. Shane) Houle of Kansas, Amanda (Myers) (Matthew) Ebbecke of Rochester, Christina (Myers) (Justin) Akin of Mayville, Jolene Martin of Texas, Gary Martin of Pennsylvania, Staff Sgt. Kenneth Martin of Georgia, Victoria (Doe) Barron of Texas, Aaron Doe of New Mexico and Angela (Doe) Hofrichter of Arizona. She was preceded in death by her parents, her father in 1975 and her mother in 1972; a brother, Ronald Newman of Westfield in 1969; and two children, Kenneth Miller of Westfield in 1981 and Peggy Martin of Conneautville, PA in 2007.
Friends may call on Saturday, August 19 from 9 to 11 a.m. just prior to a memorial service held at 11 a.m. at West Portland Baptist Church, with Rev. Charles Robertson officiating.
In lieu of flowers, memorials may be made to the Northern Chautauqua Canine Rescue, 7540 N. Gale St., Westfield, NY 14787; or West Portland Baptist Church.
Obituary from the Observer