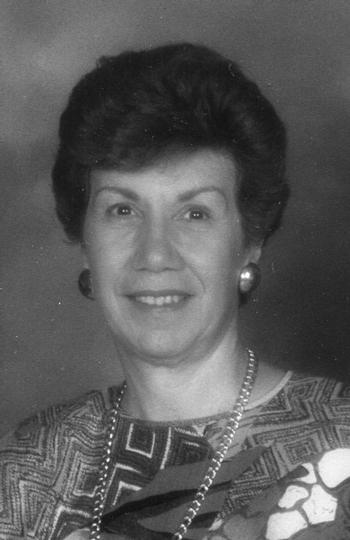 Mary T. Sevola, (nee Vacanti), 83, of Fredonia died after a lengthy illness on Friday, July 14, 2017 at Father Baker Manor in Orchard Park. She was born on September 15, 1933 in Dunkirk, the daughter of the late Frank and Josephine (Cash) Vacanti.
On February 12, 1955, she married the late Charles Sevola, Sr. of Fredonia.
Mrs. Sevola retired in 1995 from the Faculty Student Association at SUNY Fredonia after 41 years of service. After her retirement, she was an active volunteer as an usher for Shea's Performing Arts Center, the Fredonia Opera House, and Rockefeller Arts Center at SUNY Fredonia. She also volunteered with Meals on Wheels and was a Eucharistic Minister for St. Anthony's Church, where she was a member since 1955. She was also a member of CIAO in Fredonia.
Mary thoroughly enjoyed cruises and traveling the world with her husband of 59 years. Disney World was a special favorite. She also enjoyed reading, going to plays and concerts and dining out and spending time with family and friends.
She is survived by her children, Elizabeth (John) Green of Fredonia, Michele (Mark) Diefenbach of Eden and Charles (Melissa) Sevola, Jr. of Randolph, NJ; grandchildren, Michael (Tricia), Kristen and Stephen Green, Mallory and David Diefenbach, and Lea, Kara and Charles (CJ) Sevola III, and two great-grandsons, Patton and Jackson Green. She is also survived by her brother, Salvatore Vacanti of Kissimmee, FL; sister-in-law, Barbara Vacanti of Tampa, FL; and many nieces and nephews. Besides her husband, Charles, she was predeceased by her brothers, Charles, Stephen, Pat, Joseph and Marion Vacanti; and her sister, Frances (Vacanti) Dyment.
Family and friends are invited to call at the McGraw-Kowal Funeral Home, 736 Central Avenue, Dunkirk on Monday, July 17 from 4-8 p.m. A Mass of Christian Burial will take place at 10 a.m. Tuesday, July 18 at St. Anthony of Padua R.C. Church on Cushing Street in Fredonia. Interment will be at St. Anthony's Cemetery in Fredonia.
Obituary from the Observer