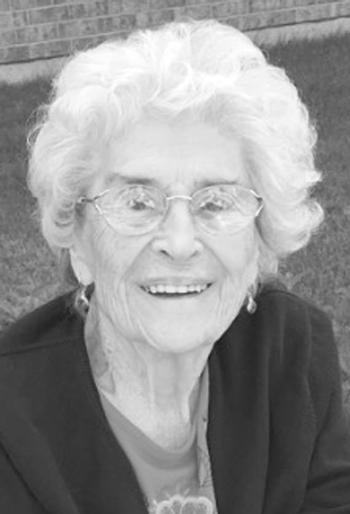 Evelyn M. Martin, age 100, passed away peacefully after a long and full life on Friday afternoon, July 14, 2017 at Elderwood at Hamburg in Hamburg.
Evelyn was born on January 23, 1917 in Throop, NY, the daughter of the late Charles and Nellie (Powers) Warner. She worked as a secretary for the Silver Creek Pennysaver for many years. She married Willard C. Martin on June 19, 1937.
Evelyn was an active member of the First United Presbyterian Church in Silver Creek, where she served as a deacon and participated in Deborah Circle. Her other memberships included the Silver Creek Senior Citizens, for which she was a former chaplain; Garden Club; Friends of Anderson-Lee Library; and was a longtime volunteer at St. Columban's on the Lake, where she resided for 11 years.
Evelyn is survived by two sons, Robert W. (Elaine) Martin of Allentown, PA and David D. (Mona) Martin of West Seneca; a daughter, Shirley A. Plec of Orchard Park; eight cherished grandchildren, Lori (Philip) DeAngelo, Pamela (Todd) Frangione, Susan (Timothy) Stoklosa, Sandra (Joseph Jr.) McDonnell, Kathleen (Jeffrey) Guzda, Kristen Plec, David (Amy) Martin and Julie (Marc) Stanley; and 16 great-grandchildren. In addition to her parents, she was preceded in death by her husband of 44 years, Willard C. Martin; a brother, Winfield R. Warner; a sister, Arlene J. Bebee; and a son-in-law, Robert F. Plec.
Relatives and friends are invited to attend a memorial service on Friday, July 21 at the First United Presbyterian Church, 35 Park Place, Silver Creek at 11:00 a.m. Interment will follow in the Glenwood Cemetery, Silver Creek.
The family suggests memorial contributions in Evelyn's memory to the First United Presbyterian Church or St. Columban's on the Lake, 2546 Lake Road, Silver Creek, NY 14136.
To share a condolence or remembrance, go to www.holeparkerfc.com.
Obituary from the Observer