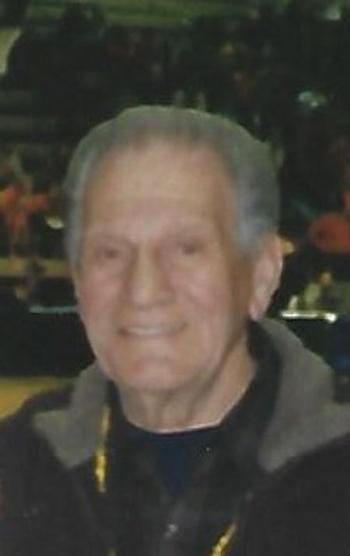 Ronald Harry Rhodes, 81, took his last breath on this Earth from pulmonary fibrosis on Tuesday, July 11, 2017 in his home, surrounded by family.
Ronald was born on June 22, 1936 in Falls Creek, PA to Alvin and Edna Boyer Rhodes. He later moved to Clymer, where he attended Clymer Central School. He loved riding his Indian motorcycle, fishing, hunting, bowling and Boy Scouts, where he reached the level of Explorer Scout; Master Scout Leader. He joined the United States Marine Corps, serving as a sergeant with the 6th Fleet on security duty in the Mediterranean, later returning to Clymer, where he met and married Jacqueline Damon on October 25, 1958. They were gifted with four sons: Mark, Gregory, Christopher and Corey.
Ronald owned a milk-trucking business and later the Rhodeside Dairy Farm in North Clymer, which was passed on to the third generation. He was a produce buyer from Maplevale Farms, and served on several boards: 15 years on the Clymer School Board, Dairymen's League and GLF Board, and a trustee and president of the board at North Clymer United Methodist Church. He was an active member of the Damcott-Jones American Legion and served on the committee for the Veterans Wall in Clymer. His wife, Jacqueline, was ordained a pastor, and together they served Watts Flats United Methodist Church, Christ First Church in Jamestown, Brocton Tri-Church Parish, and Kidder Memorial Church in Jamestown.
After retirement, they moved home to Clymer and attended Fentonville United Methodist Church with son, Pastor Christopher.
Semper Fi (always faithful) to his Faith, family and friends, giving with care his time, talent and treasure.
He was predeceased by his parents; baby brother, Charles; mother and father-in-law, Mildred and Walter DeShazer; brothers-in-law, Troy Chase and Dick Poorman; nephews, Bill Klingensmith, Dave Haak and Darren Eshelman; and best pet buddy, "Chewy." Surviving are his wife, Jacqueline; sons, Mark (Rose), Gregory (Sharon), Christopher and Corey; grandchildren, Jason, Mark II, Jennifer, Jo-Linda, Daniel, Scott and Jacob; and a great-grandson, Lukas.
Visitation will be held Friday, July 14 from 4:00-7:00 PM at the North Clymer United Methodist Church on Route 474. A Celebration of Ron's life will be held Saturday, July 15 at 5:00 PM, with Pastor Blair Blakeslee presiding. Ron donated his body after his Soul departed for Heaven, to the University of Buffalo Research. A family graveside service will be held at a later date.
In lieu of flowers, donations may be made to the North Clymer United Methodist Church Mission Outreach; American Legion; or Boy Scouts of America.
Obituary from the Post-Journal