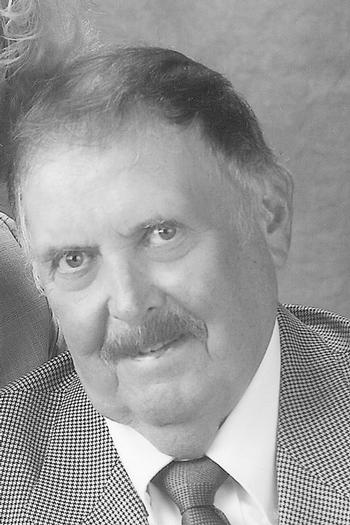 Richard A. Westling Sr., 84, of Dunkirk passed away on Monday, July 10, 2017 at the Gowanda Rehabilitation and Nursing Home, following an unexpected and brief illness, with his wife, Vicki, by his side.
Richard was born to Carl R. Westling, Sr. and Myrtle Ellen (Philbrick) Westling in Gowanda on April 5, 1933. He lived in South Dayton until 1941, when the family moved to Dunkirk, where he lived for most of his life.
He graduated from Dunkirk High School in 1952, where he was active in the school's sports programs, including volleyball and basketball. He was the captain of the Dunkirk Marauders basketball team during his senior year, at which time he took the team to play in the Aud. After graduation, he attended Fredonia State College before entering the United States Army during the Korean Conflict. Upon returning to Dunkirk, Richard continued his athletic enthusiasm, playing softball, basketball and bowling on various city leagues and team events. He was an avid golfer and a past member of both Tri-County and Shorewood country clubs. He was a die-hard Buffalo Bills and New York Yankees fan, and never gave up on them. When it came to college basketball, however, he rarely missed a televised Duke game.
Watching his children and grandchildren participate in the local sports programs was one of his greatest joys, and everyone knew when he was at the game.
He served in the U.S. Army and was a Korean War veteran. In 1959, he joined the City of Dunkirk Police Department, where he remained until his retirement in 1979. He was part owner and operator of Barone-Westling Ambulance Service from the early '60s to the mid '70s. Following he retirement, he joined the North Texas State University Police Department in Denton, TX from 1979 to 1983, and later returned to the Dunkirk area, where he worked at Niagara Mohawk until his final retirement in 1993.
Richard was proud of his service to his community and to his country. He was a member of the American Legion since 1958 and a member of Post 62 for many years. He was also a member of the First Ward Falcons Club, Fredonia Beaver Club, and World War II Veterans Club. He was a volunteer fireman (Hose #1) for several years and a member of the Dunkirk Exempt Fireman's Club.
He is survived by his wife, and the love of his life, Vicki D. Westling, whom he married on April 3, 1979 in Westfield. In addition to his wife, Richard leaves two daughters, Dr. Sheryl Bushman of Lacygne, KS and Barbara (Nick) Noce of Rochester; three sons, Richard (Judy) Westling and Jeffrey (Deborah) Westling, both of Dunkirk, and Joseph (Betty Jo) Westling of South Dayton; one stepson, Glenn (Lori) Stephens of Sarasota, FL; ten grandchildren, Lorenza (Joe) Stolle of Lacygne, KS, Amanda (Jack) O'Brian, Brett, Bo, Bryan, Nathan and Jacob Westling, all of Dunkirk, Thomas James Noce of Rochester, Nicole and Cody Stephens of Sarasota, FL; and four great-grandchildren, Isabella, Matthew and Ryan Stolle of Lacygne, KS and Zayden Stephens of Sarasota, FL. Also surviving and many nieces and nephews. He was preceded in death by his parents; one infant daughter, Mary Jo; his sister, Margaret Menshel; and brothers, Donald J. Westling, Jerry L. Westling, and Carl R. Westling, Jr.
There will be no visitation. A memorial service will be held at the McGraw-Kowal Funeral Home on Monday, July 17 at 10:30 AM. Interment will follow at the Willowbrook Park Cemetery, with military honors provided by the Dunkirk Joint Veteran's Council.
Obituary from the Observer