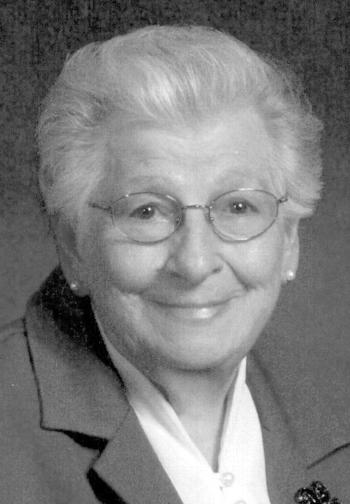 Dolores M. Trewiler, 94, of Silver Creek died Sunday afternoon, January 8, 2017 at St. Columban's on the Lake in Silver Creek. She was born on September 25, 1922 in Odebolt, IA, the daughter of the late Aloysius and Elizabeth Meuter.
Dolores was very active in her community, serving on numerous boards and volunteering to help anybody in need, especially her fellow senior citizens. She volunteered for more than 30 years at the Retired Senior Volunteer Program. She served on the Advisory Board with Chautauqua County Office for the Aging, was a former treasurer of the United Senior Council of Chautauqua County, and former secretary of the Silver Creek Senior Citizens for 10 years, where she was an integral part of finding, funding, and remodeling the current club.
St. Columban's on the Lake was very dear to her heart. She enjoyed crocheting items for the gift shop, worked a booth at the Spring Festival, helped with bingo, and kept the bulletin board up to date.
Dolores was a faithful member of Our Lady of Mt. Carmel R.C. Church in Silver Creek and participated in the OLMC Social Club. She also belonged to the National Council of Senior Citizens and the Sheridan Happy Seniors.
Survivors include a daughter, Joyce Swartz of San Antonio, TX; a stepdaughter, Joyce Smith of Niles, OH; a sister, June Blum of Delevan, NY; two granddaughters, Ann McFall and Zanet Wiesman; a grandson, Daniel Jimerson; a great-grandson, David Swartz; three great-granddaughters, Zanthel Zika, Ashley Swartz and Robin Rohloff; and four great-great-grandchildren, Timothy Rohloff, Lukas Zika, Mackenzye Boaz and Maddox Zika. In addition to her parents, she was preceded in death by her husband of 37 years, Harold Trewiler; and a grandson, James Swartz.
There will be no calling hours. A Memorial Mass will be held on Tuesday, January 17 at 9:30 AM at St. Columban's on the Lake, 2546 Lake Rd., Silver Creek.
The family suggests memorial contributions to St. Columban's on the Lake. To leave a message of remembrance or a condolence for Dolores's family, go to www.holeparkerfc.com.
Arrangements are by the Hole-Parker Funeral Chapel, 160 Central Ave., Silver Creek.
Obituary from the Observer