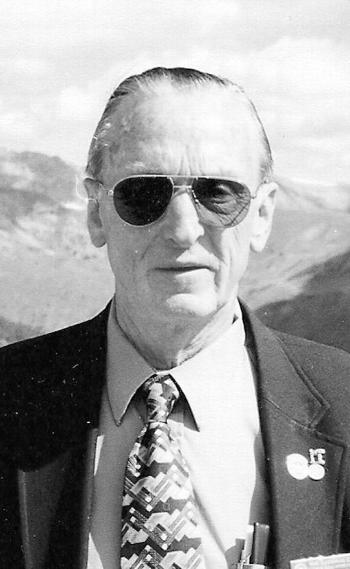 Francis H. Ross, Sr., 88, of Collins Center passed away Sunday, January 8, 2017 in Springville. He was born April 14, 1928 on Gowanda-Zoar Road in Gowanda, the son of the late Vernon and Ethel (Beverly) Ross.
Mr. Ross was a WWII veteran, having served in the U.S. Army Air Corps.
He was employed as a rural mail carrier with the U.S. Postal Service for over 20 years. He also owned and operated a Culligan water softening business for many years.
Mr. Ross was married to the former Mary Lou Roetzer, who predeceased him in 2009.
He was a member of the National Rural Carriers Association, Gowanda Moose and the American Legion Post #409 in Gowanda.
He is survived by seven daughters, Kay (late Fred) Ross-Dobbertin of Otto, Nancy (John) Kroog of Stoney Point, NY, Elizabeth (Dan) Schnebel of Florida, Audrey (Steve) Cline of Cattaraugus, Candace (Corrine) Barrett of San Diego, CA, Marian (Mike) Bowers of Gowanda and Erin Ross of Gowanda; a son, Francis Ross, Jr. of Gowanda; three stepsons, Jeffrey Gernatt, Joseph (Carol) Gernatt and Steve (Bridgett) Gernatt; and several grandchildren, great-grandchildren and great-great-grandchildren. Also surviving is a brother, Bartlett (Jean) Ross of Florida; and several nieces and nephews. Besides his wife, he was predeceased by a daughter, April Musial; a brother, B. John Ross; and a sister, Betty Ann Ross.
Friends may call at the Mentley Funeral Home Inc., 105 East Main Street in Gowanda on Wednesday, January 11 from 4-7 p.m. Funeral services with Military Honors will be held on Thursday, January 12 at 11 a.m. from the funeral home. Burial will be in Collins Center Cemetery.
Memorials may be made to the American Legion Post #409 or the Collins Center Vol. Fire Dept.
By the Observer