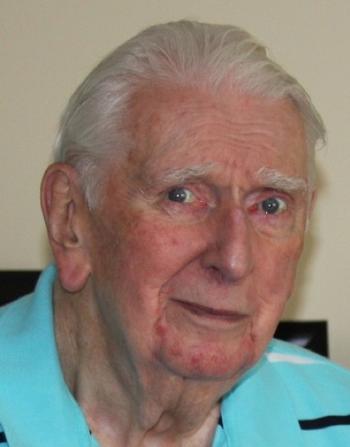 On January 3, 2017, Lothar Walter Schultze passed peacefully from this world, with his loving family and furry friend Fluffy by his side. He was 96.
Walt was born in Berlin, Germany to Walter and Hedwig Kleindienst Schultze. His family immigrated to Ossining, NY in 1925. Walt graduated salutatorian of his class at Ossining High School in 1938. He received his Bachelor of Arts (cum laude) and Masters of Science degrees in Chemistry from SUNY at Albany. Walt got his Ph.D. from Pennsylvania State University in 1955, where he was a member of the Phi Delta Kappa and Pi Gamma Mu honor societies.
Walt lived in Albany, NY from 1952 to 1966, Fredonia, NY from 1966 to 2003, and in Queensbury, NY from 2003 to 2012. He had been living with his daughter and her family in Manchester, NH for the past five years.
Walt worked as a project engineer at the U.S. Rubber Company from 1942 to 1945.
He was a veteran in the U.S. Navy, and received the Medal of Good Conduct, Victory Medal (World War II) and the American Theatre Medal. He worked for the Navy as an electronics technician in Washington, DC, where he met the love of his life, Barbara Jean Langton. They were married in 1947, and raised three children.
Walt had a long career in the State University System of New York. He was associate professor of Science, and director of Admissions and Alumni Affairs at SUNY Albany. At SUNY College at Fredonia, he was director of Institutional Research, acting director of the Computer Center (1967 to 1970), and director of the 3-1-3 Program until he retired in 1984. He also served as acting chancellor for the Office of Policy & Analysis, State University of New York in 1985.
Walt was best known for his volunteerism and selfless service to others, and he received numerous service awards for his contribution to the community. Walt was a member of the Dunkirk Kiwanis, and served as secretary (1968, 1979, 1981, 1986 and 1987) and president from 1969 to 1970. He helped organize the annual geranium sales, and was often seen serving at the spaghetti suppers and at the fairground sausage cart. He was a member of the Board of Directors and chaired the Narcotics Advisory Council and Scholarship Committees. From 1972 to 1973, Walt was lieutenant governor for the New York District Kiwanis International, the treasurer of the Southwestern Division from 1974 to 1982, district chairman of the Planning Committee from 1972 to 1978, and district chairman of Club Administration from 1979 to 1981. As part of the Past Lieutenant Governors' Council, he was also active in raising scholarship funds for Camp Kiwanis.
He was on the Board of Trustees of the United Way of Northern Chautauqua County from 1980 to 1986, and served as chairman of the Education Division (1978 to 1982), chairman of the Annual Campaign (1980) and president (1985). He also worked on the annual Campaign Advisory Committee and the Personnel Committee, facilitating strategic planning and training sessions for the organization.
Walt was also active in the American Red Cross during the 1970s and 80s. He was chapter chairman for Chautauqua County, and led longrange and strategic planning sessions for the Chautauqua, Buffalo, and NY/PA Western Divisions. He served on the Advisory Council for the Eastern Operations Headquarters in Alexandria, VA and directed Operational Reviews for chapters up and down the Eastern U.S. Walt joined the National Headquarters in 1981 and worked on the Convention Organization, Resolutions, Standards, National Red Cross/United Way Agreement, Harriman Award Selection, and Team Building Curriculum committees. He conducted Volunteer and PaidStaff Relations and Team Building training across the country. He was also part of the Chautauqua County contingent who traveled to Charleston, SC after Hurricane Hugo in 1989 to assist homeless families with disaster services.
Walt was on the Board of Directors of the Chautauqua County American Cancer Society from 1972 to 1975. Walt and his wife also spent many years serving meals together for the Chautauqua Rural Ministry Friendly Kitchen, and delivering meals to shutins as part of the Dunkirk/Fredonia Meals on Wheels program. Walt served on the Dunkirk/Fredonia Meals on Wheels Board of Directors from 1993 to 2003.
Walt was an elder at the United Presbyterian Church of Dunkirk, where he was a greeter and active on the Finance Committee. Walt was also a member of the First Presbyterian Church of Glens Falls. In addition, he was a Free Mason in the Grand Lodge of NY, and received his 50-year recognition medal in September 2016.
Walt is predeceased by his wife of 55 years, Barbara Jean Langton Schultze.
He leaves three children, Barbara Schultze of Manchester, NH, Stephen Schultze and his wife Suzanne of Queensbury, NY, and Carl Schultze and his wife Kimberley of Manchester, NH; six grandchildren, Kalleen, Alyssa, Caitlin, Kevin, Sarah and Ben; and one great-granddaughter, Skylar. Walt also leaves a brother, Helmuth Schultze and his wife Pattie of Ashville, NC.
A private family ceremony will be held in Poughkeepsie, NY on Friday, January 13.
In lieu of flowers, please consider a donation in Walt's name to the: NY District of KI Foundation Camp Kiwanis Scholarship Fund, 35 East Main St., Westfield, NY 14787, ATTN: Bob Ducato.
By the Observer