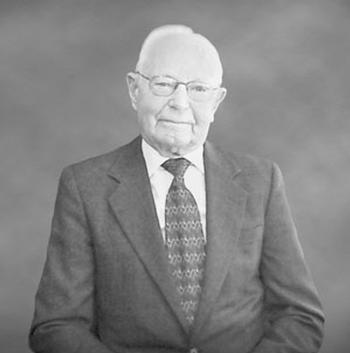 Daniel R. Gernatt Sr., a resident of Collins, entered peacefully to his eternal home with family at his side early Monday, May 5, 2014. At the age of 97, an American success story, Gernatt obtained countless milestones throughout his life.
Born into the John and Martha Gernatt farming family of 10 children, Gernatt learned early as a young boy the value of work, morality, character, family and faith. As a young man of 17, he learned the value of resilience and endurance. He began his first business adventure raising turkeys as a 4-H project. The learning and improvements he made in this business were the earmarks of enterprising growth and transformational leadership.
In 1938, Gernatt along with his new bride, the late Flavia Gernatt, combined the business knowledge gained and his trust and faith in his Lord, into a new enterprise of dairy farming, which grew into the largest dairy farm in Erie County.
They spent tireless hours hauling grain to build the foundation for the highly successful Gernatt Family of Companies, one of the largest sand and gravel producers in NY State. Gernatt as a dairy farmer began marketing gravel items from his farm in 1946. In 1955, he established Dan Gernatt Gravel Products, Inc. In 1961, Gernatt Asphalt Products, Inc. was formed. Then, Country Side Sand and Gravel Products, Inc. followed in 1964. Over the years the Gernatt Companies have grown to include operations in Chaffee, Delevan, Freedom, Gowanda, Great Valley, Hanover, South Dayton, Springville, West Seneca and Westfield.
Dan had a special love for horses. Anywhere in New York State and throughout the US where trotters and pacers have entertained nightly, harness-racing fans know the name of "Collins." Dan Gernatt Farms was the home of several hundred outstanding world class horses who carried the last name of "Collins." He was proud of his horses and took great pride in their record achievement and breeding. Dan learned much about horses from the horses themselves as he worked with them and took pride in each one of them.
It is this principle of learning that served Dan well as he augmented his knowledge by rolling up his sleeves and by watching, listening and doing in the "school of life experiences."
Gernatt's dedicated passion, work ethic, drive and spirit of "do unto others" spoke to his virtue. His earnest sense of values was based upon the principles of goodness and giving. As founder of the Daniel and Flavia Gernatt Family Foundation, Dan has been able to show his love and respect for others and their wellbeing. His legacy continues as the Foundation provides help for people where and when their need is the greatest. Throughout the years, many individuals and families have been and are the recipients of the generosity of this man and his wife.
Dan began his life in humble surroundings, yet has touched the lives, hearts and minds of many individuals throughout the years. He lived by his motto "live and let live" with a great zest for life. His passion for living was exemplified through a deeply felt love for his God, a genuine commitment to his church, devotions and affection for his family, a sincere allegiance for his community, a hard working example to all of his employees and a forthright dedication to his country. A friend to many, a loving husband, a dedi-cated and deeply committed father and grandfather, a true role model of virtue and a symbol of excellence for others to emulate.
Dan is survived by children Patricia (James) Rebmann, Daniel (Roseann) Gernatt, Jr. and Phyllis (late Richard) Ulmer; 16 grandchildren, 32 great grandchildren, 12 great great grandchildren and a sister Esther Dittenhofer.
Dan's wake will be held in St. Joseph's Roman Catholic Church, E. Main Street, Gowanda with calling hours, Thursday, May 8th, 4 8, Friday, May 9th, 3 8 with Mass of Christian Burial on Saturday, May 10th at 10:00 a.m. at the church. In lieu of flowers, please make a donation to Hospice of Buffalo, 225 Como Park Blvd., Cheektowaga, NY 14227, St. Joseph's Church, 26 Erie Ave., Gowanda, NY 14070 or the Daniel & Flavia Gernatt Family Foundation, 13870 Taylor Hollow Rd., Collins, NY 14034.
Arrangements are by the Schindler Funeral Home, 44 Center St., Gowanda, NY (716) 532-4200.
By the Observer