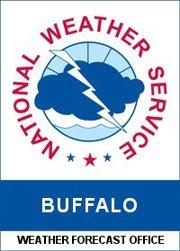 The National Weather Service in Buffalo has issued a flood warning for southwestern Erie County in Western New York...northeastern Chautauqua County in Western New York... until 4:15 PM EST Friday.
At 4:09 PM EST, the very mild weather of the past 24 hours has resulted in a significant meltdown of our extensive snowpack. The water from the melted snow has entered area tributaries and is responsible for notable rises that have already placed some tributaries in action stage...which in most cases equates to at least three quarter bankfull. During the course of tonight...these notable rises will be aggravated by rainfall amounts of a half to one inch. Currently there is one ice jam located near Versailles, but expect there to be additional ice jams as well on Cattaraugus Creek, including the Sunset Bay area.
Be especially cautious at night when it is harder to recognize the dangers of flooding.