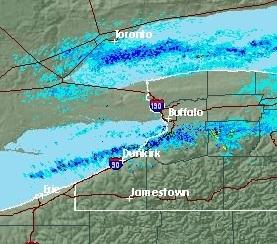 We haven't seen much of the white stuff in northern Chautauqua and Cattaraugus counties yet, but that doesn't mean we're out of the woods. The National Weather Service in Buffalo is continuing a lake effect snow warning for Chautauqua, Cattaraugus, and southern Erie counties until 7:00 AM Friday. Meteorologist Bob Hamilton says a disorganized band of lake effect snow is currently over the region and will intensify as the day goes on...
Bob Hamilton: disorganized band
Hamilton estimates two to four inches of snow have fallen across the higher terrain of Chautauqua County, with an additional three to six inches during the day today and three to six more inches tonight in the most persistent snows. Here in the Dunkirk-Fredonia area, there is no accumulation yet.
Click here for the latest weather information.
Radar image by the National Weather Service as of 5:55 AM