A Silver Creek woman who was an inspiration to those who are challenged by disabilities in Chautauqua County and across New York state has passed away at the age of 54. Laurel Hotelling, the daughter of Wayne and Elaine Hotelling, died in a Buffalo area hospital surrounded by family yesterday. She was the heart and spirit behind the annual Laurel Run, which did not only raised funds for The Resource Center, but increased awareness about the challenges that those with disabilities face each and every day. Steve Waterson of the The Resource Center tells WDOE News he heard about Laurel's death last night...
Waterson-Learned of Laurel's death Monday evening
Laurel Hoteling had Down syndrome, a genetic disorder that can result in cognitive disabilities. Waterson says when Laurel was born, her life could have been much different...
Waterson-Hotellings offered same opportunities for Laurel
In a way to honor Laurel, Wayne Hotelling began Laurel Run in 1997 with a 400 mile run across the state. While an injury forced the retired educator and track coach to finish the journey by bicycle, Laurel Run drew interest from across New York. It has since become an annual event in Chautauqua County. Despite having health related issues, Laurel was able to make an appearance at the most recent Laurel Run event held back in July.
Update: Funeral arrangements have been made for Laurel Hotelling. Visiting hours will be held Thursday from 4-8 pm at the Hole-Parker Funeral chapel in Silver Creek, with the memorial service on Friday at 10 am at the First United Presbyterian Church in Silver Creek.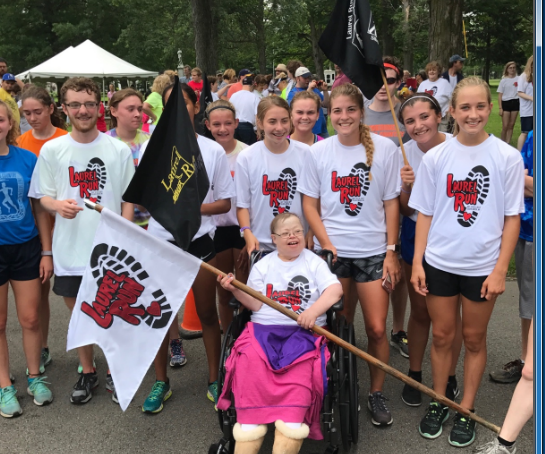 Laurel surrounded by supporters in July 2017 (Photo by Dan Palmer)