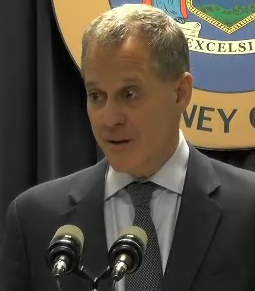 New York State Attorney General Eric Schneiderman is threatening to sue the Trump Administration following the President's signing of an executive order intended to make lower-cost health care plans more widely available and spur competition. On Thursday, Schneiderman released the following statement:
Having failed to persuade a Republican Congress to repeal the Affordable Care Act (ACA), President Trump now appears to be trying to accomplish by executive fiat what he could not through Congress -- treating New Yorkers as political pawns in his effort to sabotage the health care market.
Let me be clear: if the Trump Administration takes any action that violates the law -- or tramples on New Yorkers' constitutional rights -- we will take them to court.
In the meantime, my office will continue to defend the vital ACA subsidies in federal court for the hundreds of thousands of New Yorkers and millions of Americans who rely on the quality, affordable health care they provide.