Area Congressman Tom Reed says he has a meeting this week with U.S Secretary of Labor Alexander Acosta and there are some pressing issues he wants to discuss with the Trump administration official. Among them, the need for farmers to have access to guest workers. Reed says it's becoming a problem for area growers and dairy farmers...
Reed-Need for immigrant workers is becoming a problem
The Corning Republican says he will be urging Acosta that there is a need to fix the nation's broken immigration system...
Reed-Must fix broken immigration system
Reed, who co-chairs the "Problem Solvers Caucus," feels these are issues the bi-partisan panel can tackle as they continue to work out a replacement program for DACA. President Trump gave Congress a six-week deadline when he announce his decision not to renew DACA earlier this month. Reed made his comments during a conference call with area media on Tuesday including WDOE News.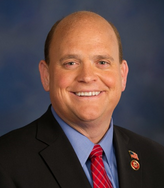 Congressman Tom Reed