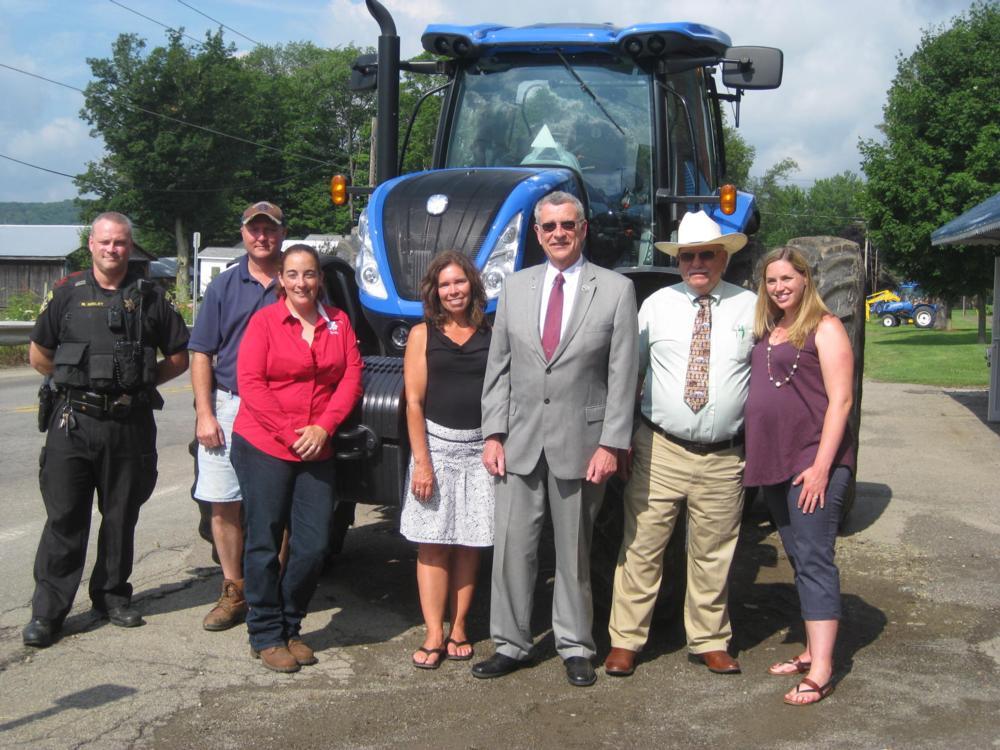 Slow down and expect the unexpected. That advice for motorists in Chautauqua County this summer, especially on the back roads, where you often see farm vehicles and Amish buggies. On Friday, County Executive Vince Horrigan hosted his latest 100 Days of Summer Safety event at John Wiggers and Son Farm Equipment on Route 474 in Clymer. Horrigan was joined by Chautauqua's Pete James, who is a member of the Sheriff's Department Traffic Safety Board. James is also part of Governor Cuomo's Traffic Safety Board that has put a special emphasis on safely navigating "slow moving" traffic...
Pete James: stop in your sight distance
Deputy Michael Seeley with the Chautauqua County Sheriff's Office emphasized the need to expect the unexpected. Seeley says slow down and give slower vehicles a lot of room...
Michael Seeley: expect the unexpected
Emily Reynolds with Cornell Cooperative Extension says they put on several agricultural vehicle safety courses to help refresh local farmers on safety and teach children who will soon be able to operate farm equipment. Reynolds says you can contact them at Cornell Cooperative Extension for more information.
Pictured, from left to right: Chautauqua County Deputy Sheriff Mike Seeley, Clymer Fire Chief Ed Faulkner, Cornell Cooperative Extension of Chautauqua County Executive Director Emily Reynolds, Chautauqua County Department of Health and Human Services Public Health Planner Shelly Wells, Chautauqua County Executive Vince Horrigan, Chautauqua County Traffic Safety Board Member Pete James, and Chautauqua County Department of Health and Human Services Epidemiology Manger Bree Agett.