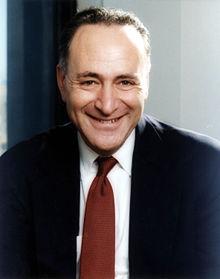 When federal lawmakers return to Congress from their two-week Easter recess next week, they'll have just a few days to approve a bill that would fund the federal budget and prevent a government shutdown. However, New York's senior U.S. Senator says good progress has been made on a final 2017 spending plan. Democratic Minority Leader Charles Schumer says he's one of the four leaders in both houses negotiating a final plan that includes critical funding for entities such as the carrier at the Chautauqua County Airport near Jamestown...
Charles Schumer: fought for essential air service
Another crucial funding item for 2017 is the Community Development Block Grant program, which benefits both Dunkirk and Jamestown. As for 2018, though, Schumer says everything is cut -- except for defense...
Charles Schumer: cuts made to 2018 budget
Schumer, who spoke during a press conference Wednesday at Southern Tier Distilling in the Town of Busti, says "if the President leaves it to the four leaders...I think we can avoid a government shutdown." The federal government has been running on a continuing resolution that funds government agencies at 2016 levels. However, that funding mechanism expires on April 28th.