New York State's second-in-command brought an update on the Athenex plant with her when she appeared in Irving today. Lt. Governor Kathy Hochul, who spoke to the Hanover Chamber of Commerce about the state budget, was asked by WDOE News following the presentation about the $200 million project and when construction will begin. While no groundbreaking date has been set, Hochul confirmed that the funding has been released for the project...
Hochul-Funding released for Athenex palnt
Hochul says because the funding has been released, the company can begin the process of securing contractors for the project. Regarding the State Budget, the Lt. Governor says the new college tuition-free program will benefit Western New York, including the local university...
Hochul-SUNY Fredonia will benefit
Hochul says the budget also helps address such problems as aging infrastructure, rising prescription drug costs, and riding sharing in Western New York.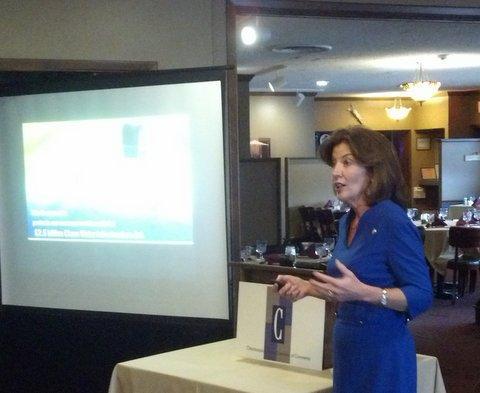 Lt. Governor Kathy Hochul speaks to Hanover Chamber of Commerce (Photo by Dave Rowley)