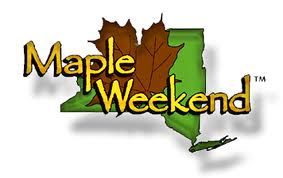 Despite some extremes in weather, the maple syrup season is underway. Producers are ready for the annual Maple Weekends, the first of which is today and Sunday. Syrup makers gathered at Big Tree Maple off Hunt Road in Lakewood for the annual kickoff Thursday morning. Lloyd Munsee of Big Tree says they are doing something special this year in conjunction with the Ashville General Store...
Lloyd Munsee: special at Big Tree Maple
John Gerber of Clear Creek Farms in Mayville says they've added a new store at their location on Morris Road in Mayville...
John Gerber: new store
Linda Fairbanks of Fairbanks Maple in Forestville says they'll have a pancake breakast and much more...
Linda Fairbanks: pancake breakfast and more
Maple Weekends are today and Sunday, as well as Saturday, March 25th and Saturday, March 26th from 10:00 AM to 4:00 PM each day. The Johnson Estate Winery in Westfield will also be participating in Maple Weekends, with a special maple liqueur. Click here for more information on Maple Weekends.