The threat of high winds has passed, but now meteorologists will be keeping an eye on area waterways as a January thaw develops over the next few days. The National Weather Service is continuing a Flood Watch from Thursday morning through Saturday morning. Abnormally high temperatures and a prolonged period of rain will melt much of the existing snowpack. Cattaraugus Creek near Sunset Bay will be one of the areas of concern. Chautauqua County Executive Vince Horrigan says the county has a plan in case flooding should occur...
Horrigan-County is ready to go

Horrigan encourages people who live near creeks and streams to monitor the latest weather information and be prepared to take action should flooding develop.


Click here for the latest on the weather...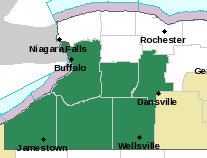 Flood Watch area in dark green