Very gusty winds overnight have caused sporadic power outages across Chautauqua, Cattaraugus and Erie counties, keeping utility crews busy. National Grid reports over 1,100 customers in the dark in Chautauqua County, 305 in Cattaraugus County and over 6,100 in Erie County. NYSEG is dealing with multiple outages near Silver Creek and Forestville.
The high winds are continuing to subside according to Meteorologist Bob Hamilton of the National Weather Service in Buffalo. The highest wind gusts occurred around 1 am when a cold front crossed the area...
Hamilton-Wind gusts reached over 60 mph
The highest gust was 64 mph at the Dunkirk Lighthouse, with 63 mph gust at a location near Fredonia. A 60 mph gust was reported at the Buffalo Airport. Winds will continue to subside today according to Hamilton. The next weather concern is the threat of flooding. A Flood Watch has been posted for the area from Thursday morning through Saturday morning.


Click here for National Grid outage map...
Click here for NYSEG outage map...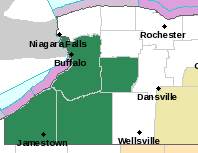 Flood Watch in dark green